friday harbor
San Juan Islands, Washington
Weekend Getaway
Last year we won a drawing for a weekend getaway. We could go any place served by Kenmore Air. Like any passionate traveler, I struggled to choose just one place. In the end, I decided the best place for a weekend getaway was Friday Harbor, in the San Juans Islands.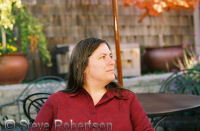 Courtyard at Friday's Historic Inn
Travel by Floatplane
We departed in a seaplane from the Kenmore Air terminal at Lake Union in Seattle, where checkin had included revealing both our weight and that of our luggage. Weight was strictly monitored. We had prepared for this by weighing baggage at home. A few other passengers were repacking in the terminal to reduce the weight they were carrying rather than pay excess baggage charges.
On Arrival
After a short flight with a water landing, we were deposited on the dock. We hadn't arranged for our innkeepers to meet us and so we were on our own to carry our luggage through town and find Friday 's Historic Inn.
Flying to the island was fun but it meant that our explorations were limited to the sites and activities within walking distance. Fortunately the bustling little town of Friday Harbor has a variety of things to see and do.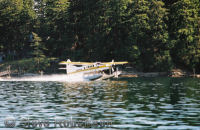 Float plane lands on Friday Harbor
A Place to Stay
Friday's Historic Inn, which we discovered was about two blocks from the docks, both charmed and delighted us. The charm of the parlor where guest check in was enhanced by the enormous rock fireplace.
Our suite had two bedrooms, a living room and dining area. The wet bar was furnished with hot beverages and a microwave. Best of all was the bathroom with jacuzzi for two and the spa robes. We indulged at least once a day.
Still, we didn't come to stay indoors and so out we went each morning. On the way out the door we indulged in a complimentary breakfast of muffins, fresh fruit and delicious coffee.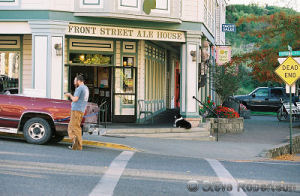 Front Street Ale House, Friday Harbor, WA
Exploring Friday Harbor
Front Street runs through town to the Harbor. It is lined with interesting shops and restaurants. We ate delicious burgers at the Front Street Ale House and watched as employees loaded cases of their best beers to take to a local fair. The brewing part of the business is known as The San Juan Brewing Co.
Just up the street in a store called San Juan Hot Shop which carries only hot sauces and other pepper related items, we indulged in a fascination for hot sauces by picking up a bottle of roasted pepper sauce and another of the hottest sauce on the planet. The bottle of heat called Pure Cap described itself as pure capsicum extract in vegetable oil. Not even habanero sauce can claim this level of heat. We actually had to sign a waiver to buy it. The roosters made out of dried red peppers were adorable. Across the street boutiques of lovely clothing tormented me, but I never did go in to browse.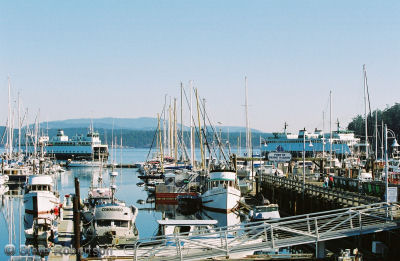 Washington State Ferry arriving at Friday Harbor
A Trip on the Ferry
Like many travelers I like to travel "off season" so that I can enjoy the place without the crowding and so I meet more natives than other tourists. This does mean that sometimes the tourist activites are not available.
In the San Juans, life is oriented toward the water. We needed to take a boat trip. By October the whale watching was over for the year, as was kayaking. We decided to take the ferry to Orcas Island instead. This was great fun. I think of ferry rides as economical cruises and imagine I am traveling the globe by ocean liner.
China Pearl Restaurant
I have a special memory of the China Pearl Restaurant on Front Street. I had a headcold which I told the waiter as I was perusing the menu. He helped me choose items rich in garlic and spices that he thought might make me feel better. He recommended the Hot and Sour soup which he said they made fresh each day. It turned out to be the perfect combination of spicy and flavorful. All of the dishes were especially well-prepared and delicious.
The Weekend was Over
There is plenty to do in Friday Harbor even without a car. We wanted a leisurely stay with plenty of rest, so we didn't rush to see everything. We even ran out of time before we climbed the hill up to The Whale Museum. We dropped by The Island Wine Company for a wine tasting and bought a couple of bottles of wine but we didn't get to San Juan Vineyards. It almost feels luxurious to be able to choose and know that you had so much to choose from that you couldn't do it all.
by Dianne Bengtson
photography by Steve Robertson
Fees and Charges:
San Juan Island access is by ferry, private boat or floatplane
1) Washington State Ferry schedule, San Juan Islands, Fares for vehicle and passengers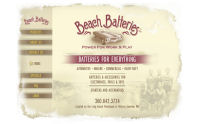 Choosing a Room at Friday's Historic Inn
Each room or suite is lovely and unique. In a usually homogenous world, here you really do have a choice. You can have an extra-special stay by thinking about your needs and what kind of room appeals to you. The rooms are described on Friday Harbor Inn's website.
As with any accomodation, in addition to amenities, think about your needs and preferences. The time to find out is when you make the reservation. Ask about flights of stairs, noise, ventilation, pet policy, parking, sun exposure, family friendliness or privacy when you make the reservation if they are important to you. No matter where you stay these are the small things that make a big difference.
We wanted lots of space, a king-sized bed and a jacuzzi. A fireplace and ocean view were nice but not "must haves". We chose the Bainbridge Suite and were delighted with it.