Mt Baker-Snoqualmie National Forest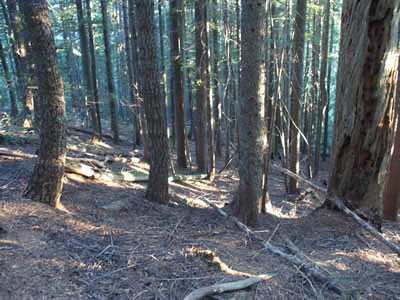 When we went to Talapus Lake, the parking lot was overcrowded. Steve's car nearly bottomed out in the grassy area that was available. Another spot opened up and we were ready to go, but in the confusion I left the guide book in the trunk of the car.
By the time we reached the lake we were ready for lunch. We ate sandwiches and fruit for a sweet, thirst quenching feast. When we were done, we continued on but discovered that the trail ended part of the way around the lake. We headed back along different trail than we had used to get to the lake but it headed in the same general direction. Then we headed down the hill along what appeared to be the main trail.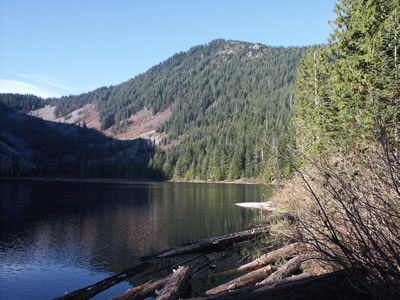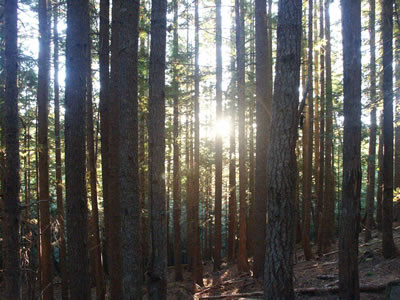 After a while nothing seemed familiar. The trail was too steep and I wondered if we had gone the wrong way. We asked the first group of hikers we passed whether they were coming from the parking lot. They said that they were and so we kept going down the hill. Still it seemed wrong and we wondered amongst ourselves whether there was a second trail to the parking lot. I had looked through my pack in vain to find the guidebook.
Finally another hiker passed and we asked specifically if this was the trail to the Exit 45 Talapus Trailhead parking lot.
He said, "No, it's the trail to the Exit 47 Pratt Lake Trailhead parking lot." Then he inquired whether we had flashlights with us, because the sun was getting low in the sky and we had a long way to walk back to the right trailhead.
The climb back up that hill was long and steep enough to have me panting. When we reached the top of the hill, we realized that we should have taken the less used trail. At that point we relaxed a little and as we passed various landmarks we had seen on the way up, we mentioned that fact to each other.
We estimated that we had walked nine miles that day, including the long hill to Pratt Lake. When we opened the trunk to the car, the guidebook was exactly where I had put it in a moment of absent-mindedness. The description in the book mentioned that there were many interconnected trails in the area.
Getting lost was a little bit unnerving, but even if we had had to spend the night out we had a flashlight, warm clothing and snacks. It was all part of the fun.
Be Aware
Navigation:Crisscrossing trails require careful attention to avoid getting lost or taking a long hike back to the car
Muddy terrain: The trails can be wet and muddy in places depending on time of year.